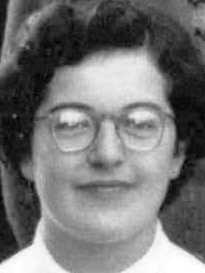 Jean at 16 ... and 72.
(Move your cursor over photo.)
At Struan Lodge Nursing Home, on October 25, 2014, Jean, beloved wife of David, dearly loved mother and devoted grandmother.

Service at Warriston Crematorium, Cloister Chapel, Edinburgh, on Saturday, November 1, at 10.30 a.m., to which all friends are invited. Family flowers only, please. Donations, if desired, for the Jubilee Club, Edinburgh, may be made at the Crematorium.

Jean's husband is David Wilkie, Morgan FP, and one of our reunion group.